Hi friends! Happy Friday! How are you? What do you have going on? Our friends are having their annual Elf party tonight and we have the fighter group's kids' Christmas party tomorrow. I'm setting up a table for the kids to make snowman slime! I'm also teaching a barre class and finishing up holiday baking and prep so I can CHILL next week. I hope you have a lovely weekend ahead! This post is going live early, so when I'm awake and have the kids dropped off at school, I'll put all of this year's Favorite Things giveaway winners live here. (Yessss you can sneak in last-minute entries until I get the winners posted.)
Friday Faves
Some adventures from this week:
The most beautiful hike with the crew! They woke up and asked to go to Sabino Canyon, so we headed there for a family hike to the Sabino Dam. The water was freezing, but it didn't stop all of us from getting our feet wet. 😉 I'm so happy the babies like to hike as much as we do! We capped off the afternoon with a trip to the dog park, Starbucks for pink drinks for the girls and a pup cup for Maisey, and smoked brisket with salad and homemade sourdough for dinner.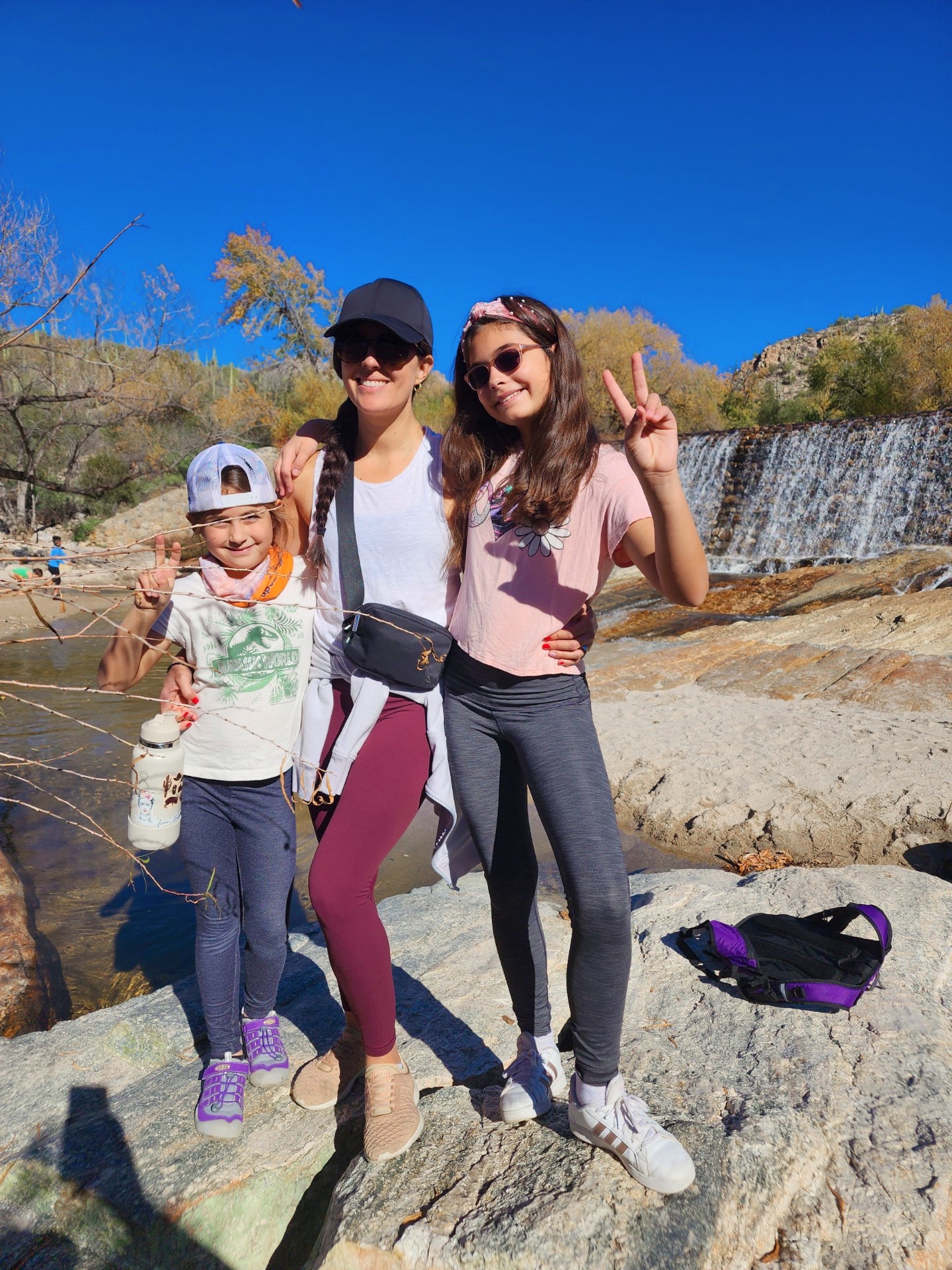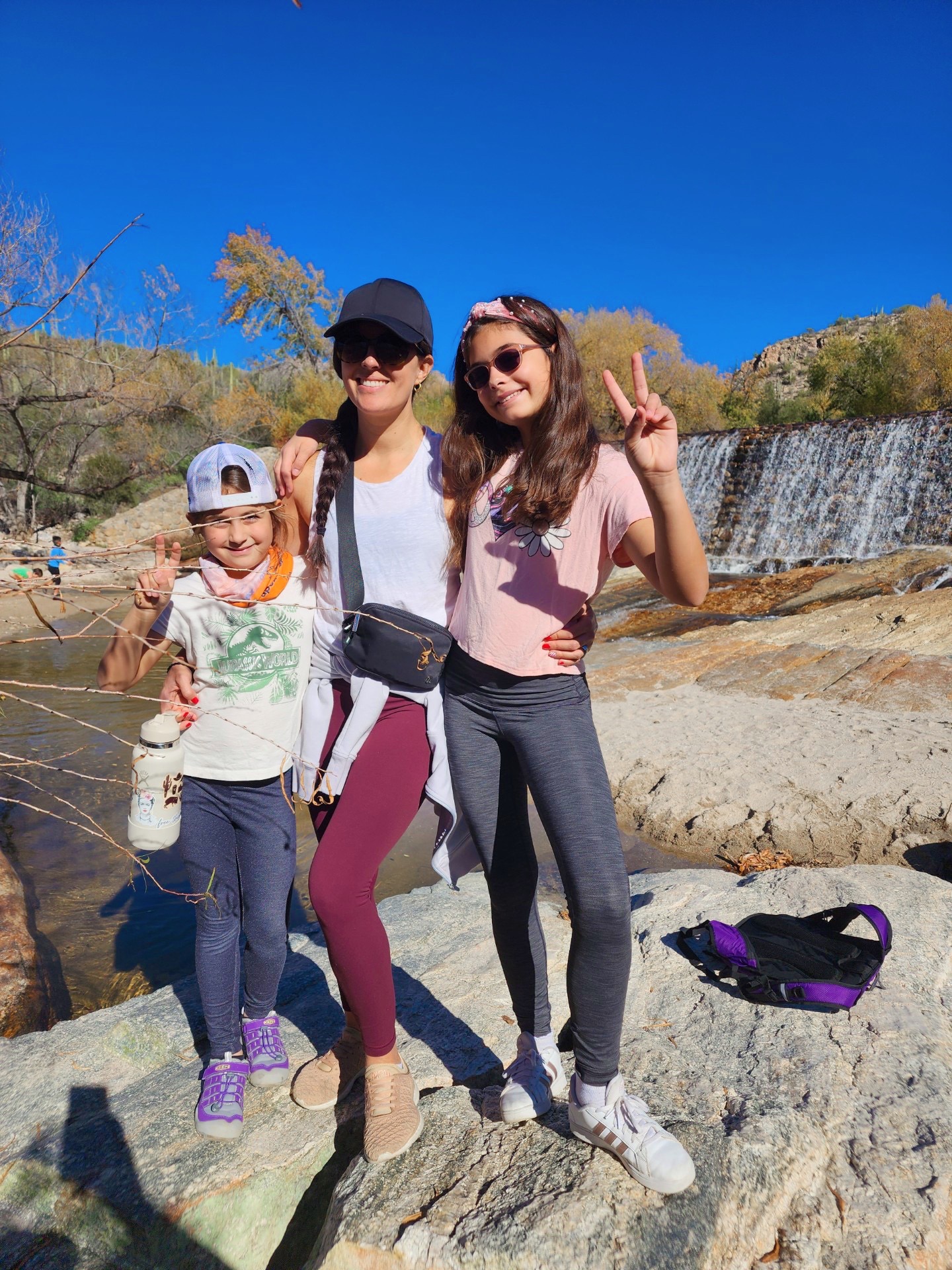 Can someone please explain to me how both of my babies are almost as tall as me?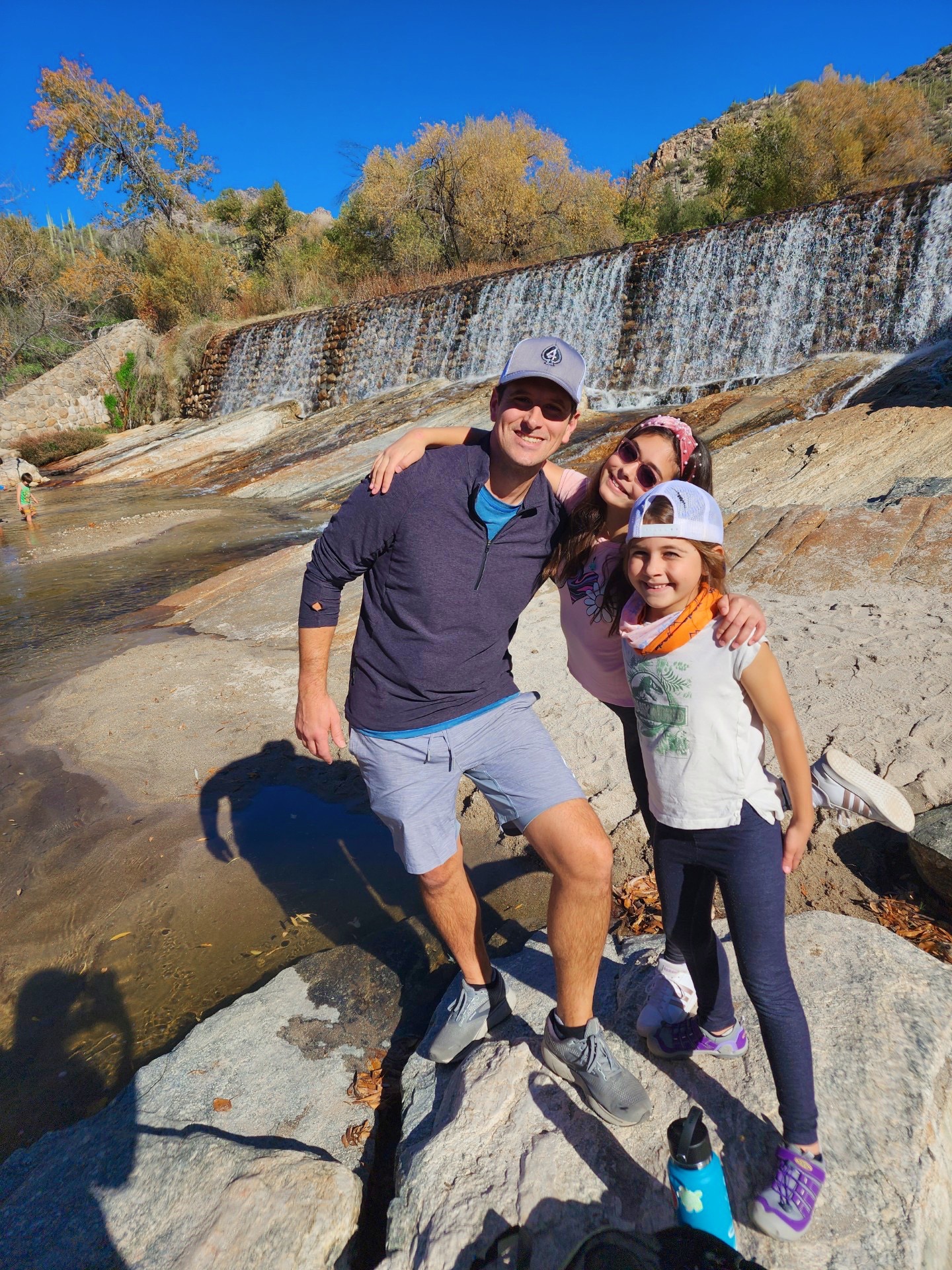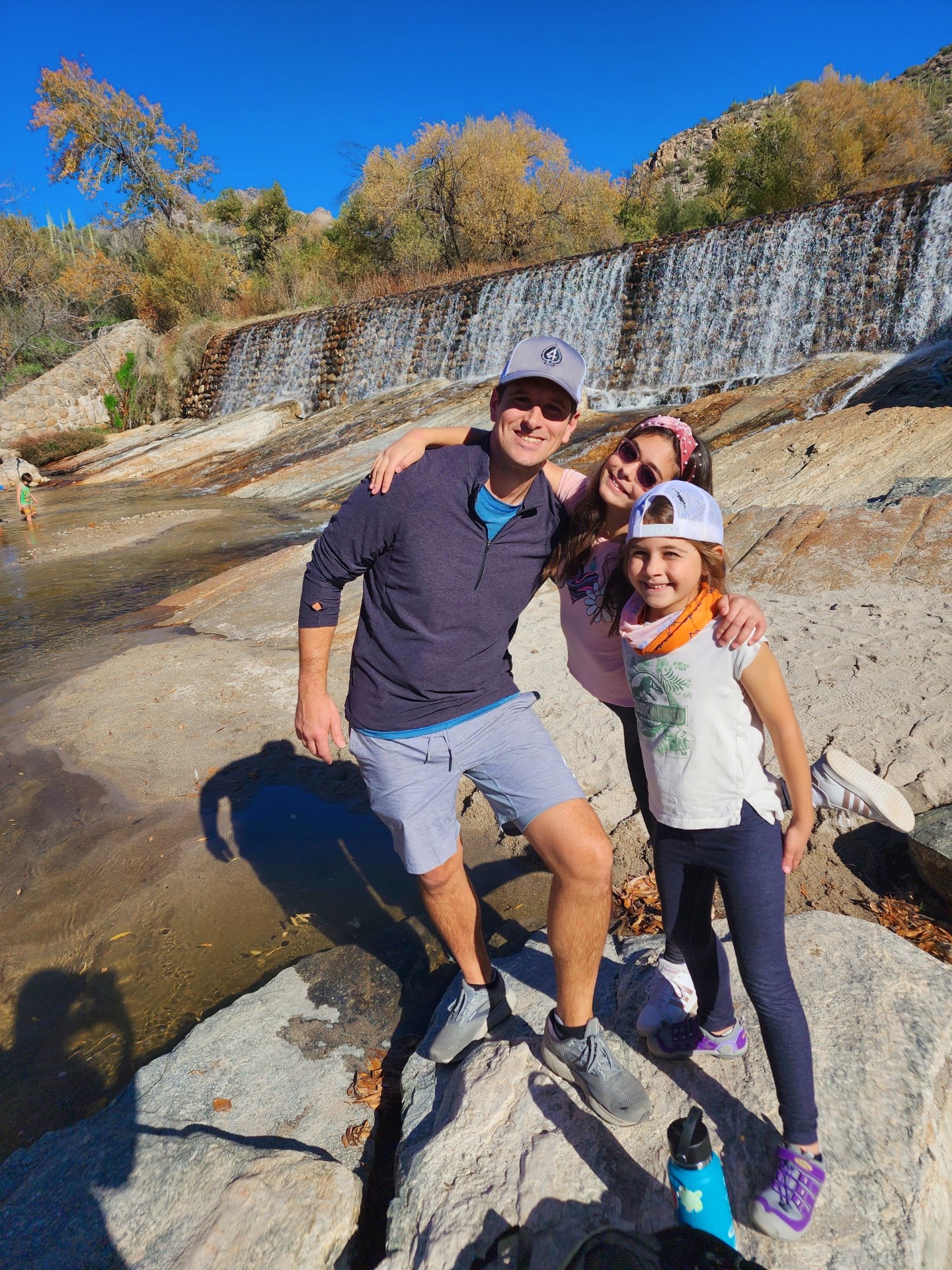 Decorating nana's house for Christmas. We were late on the boat this year, but better late than never, right? We took pizzas over and had a little front yard picnic while the Pilot strung the lights and the girls danced around to Christmas music.
Fitness + good eats:
Here's what this week's workouts looked like! I don't typically count walks as my workouts (since we don't move very quickly and I think of it more as a mental health break than a workout) but included them below.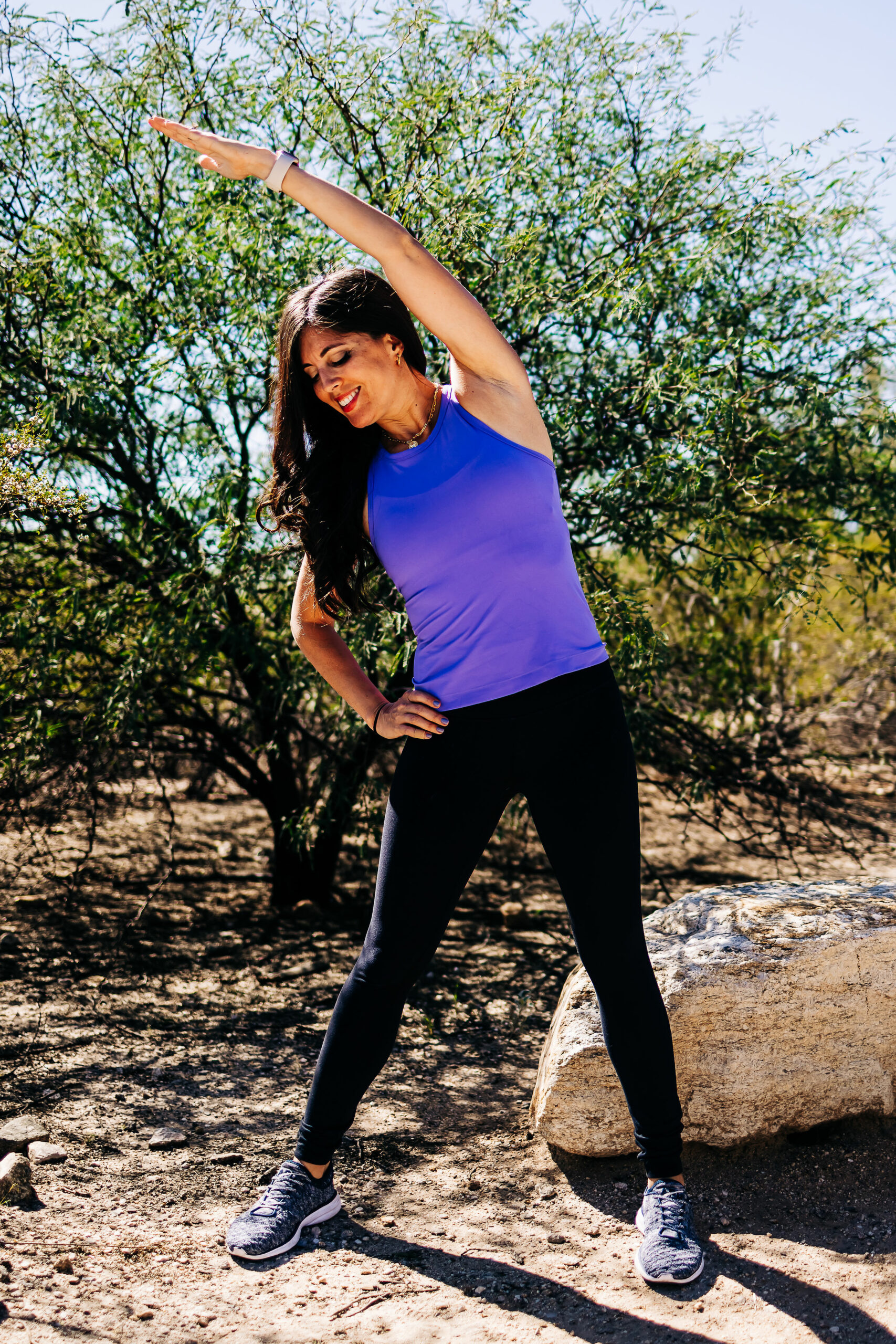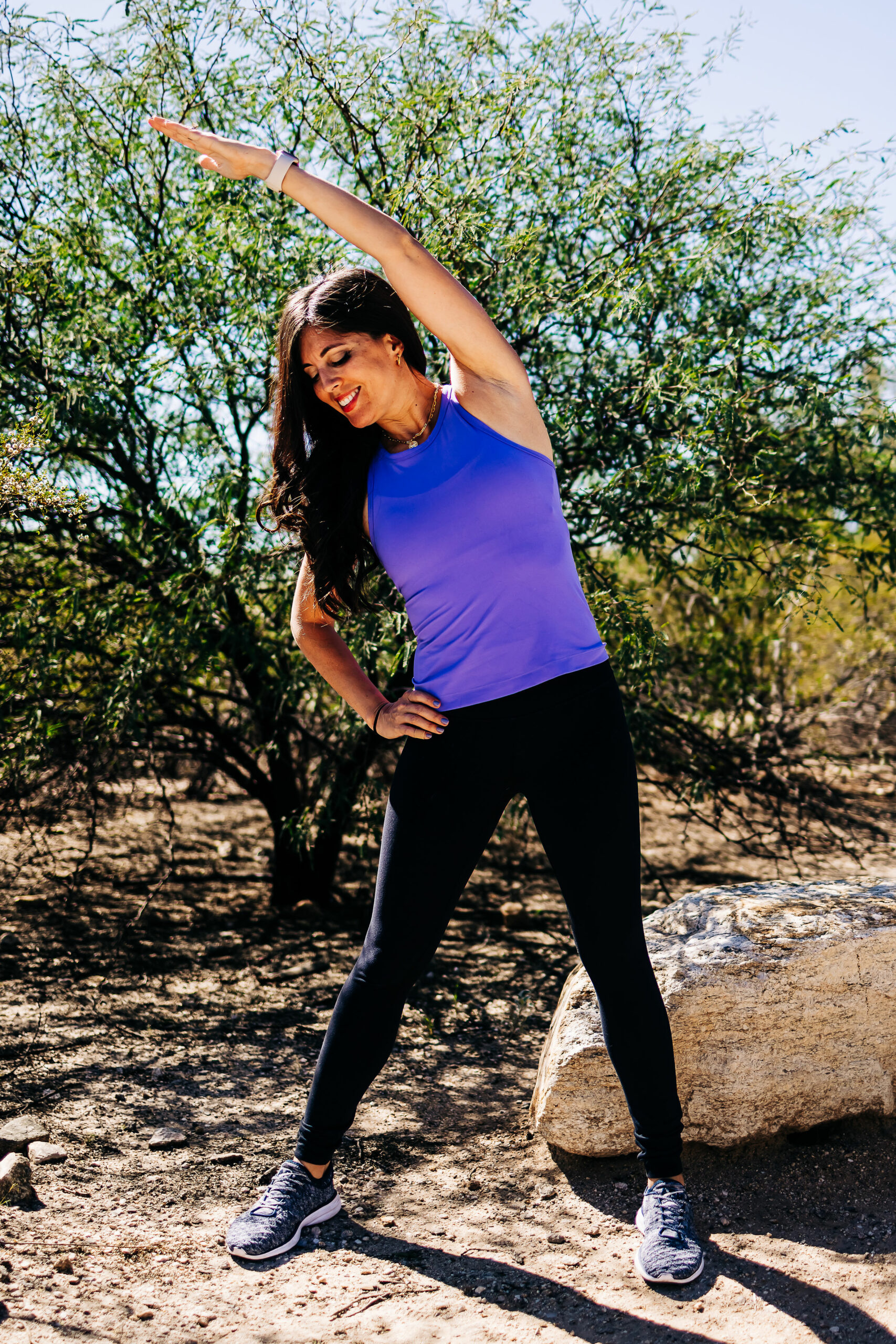 Sunday: Leisurely family hike – 1 hour
Monday: Pure barre + 30-minute walk with Maisey
Tuesday: F45 total body resistance workout + 30 minute walk with Maisey
Wednesday: Walk with Maisey (30 minutes)
Thursday: F45 leg day + 30 minute walk with Maisey
Friday: Fit Team upper body weights (40 minutes) + 30-minute walk/jog with Maisey
Saturday: OFF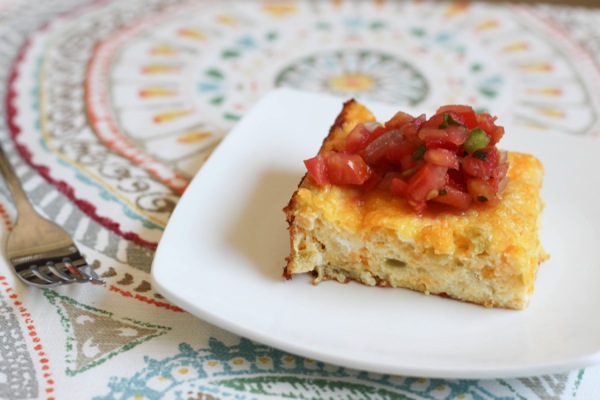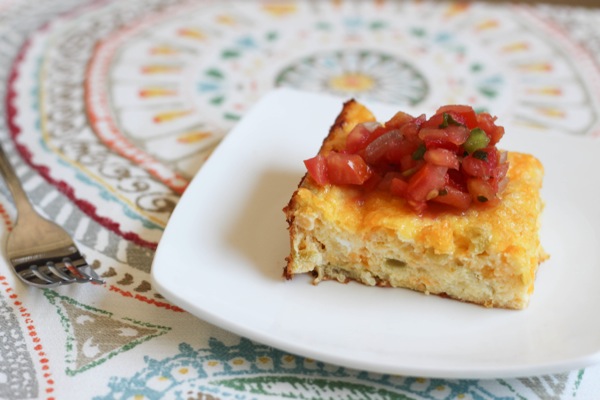 If you're looking for Christmas recipes for next week, here are some ideas!
ALWAYS nana's egg casserole
The best overnight cinnamon rolls
Vegan egg-less nog
Raw chocolate tart
A super easy and delicious turkey recipe
Holiday spice sangria
Grammies
Festive holiday cocktails
What are you cooking for Christmas dinner? We always try to switch it up, and I'm a little stumped this year. We always do Mexican food at my dad's for Christmas Eve, and last year we did surf and turf at our house from Christmas day (steak, salmon, crab legs, and sides). If you have any ideas or traditions, please send them my way! I'm thinking of this turkey roulade and this rib roast? You can never go wrong with Ina.
Fashion + beauty:
Holiday shopping is wrapping up! I always love to go back and see which gifts you've enjoyed most from my gift guides and report back on all the good stuff!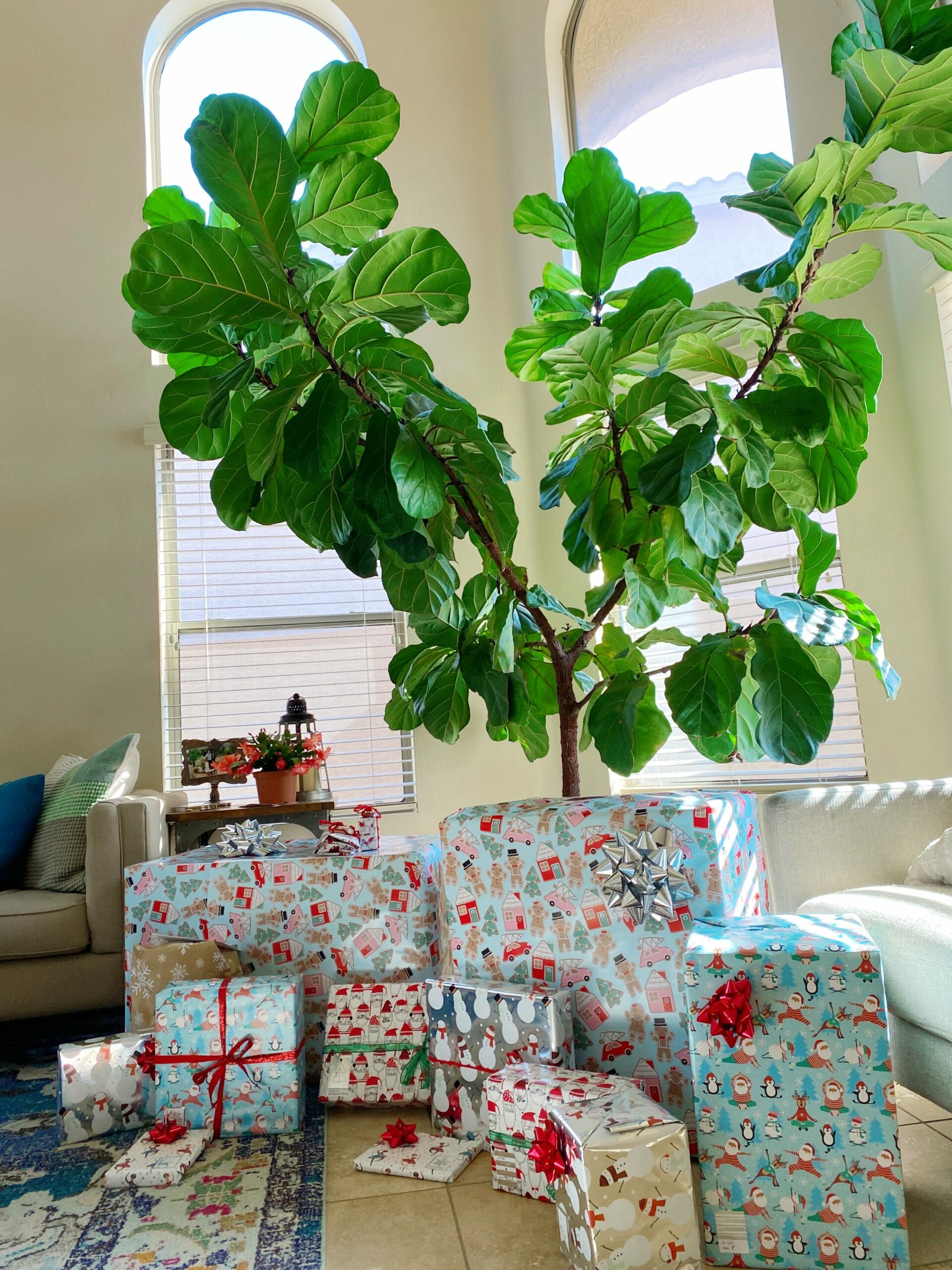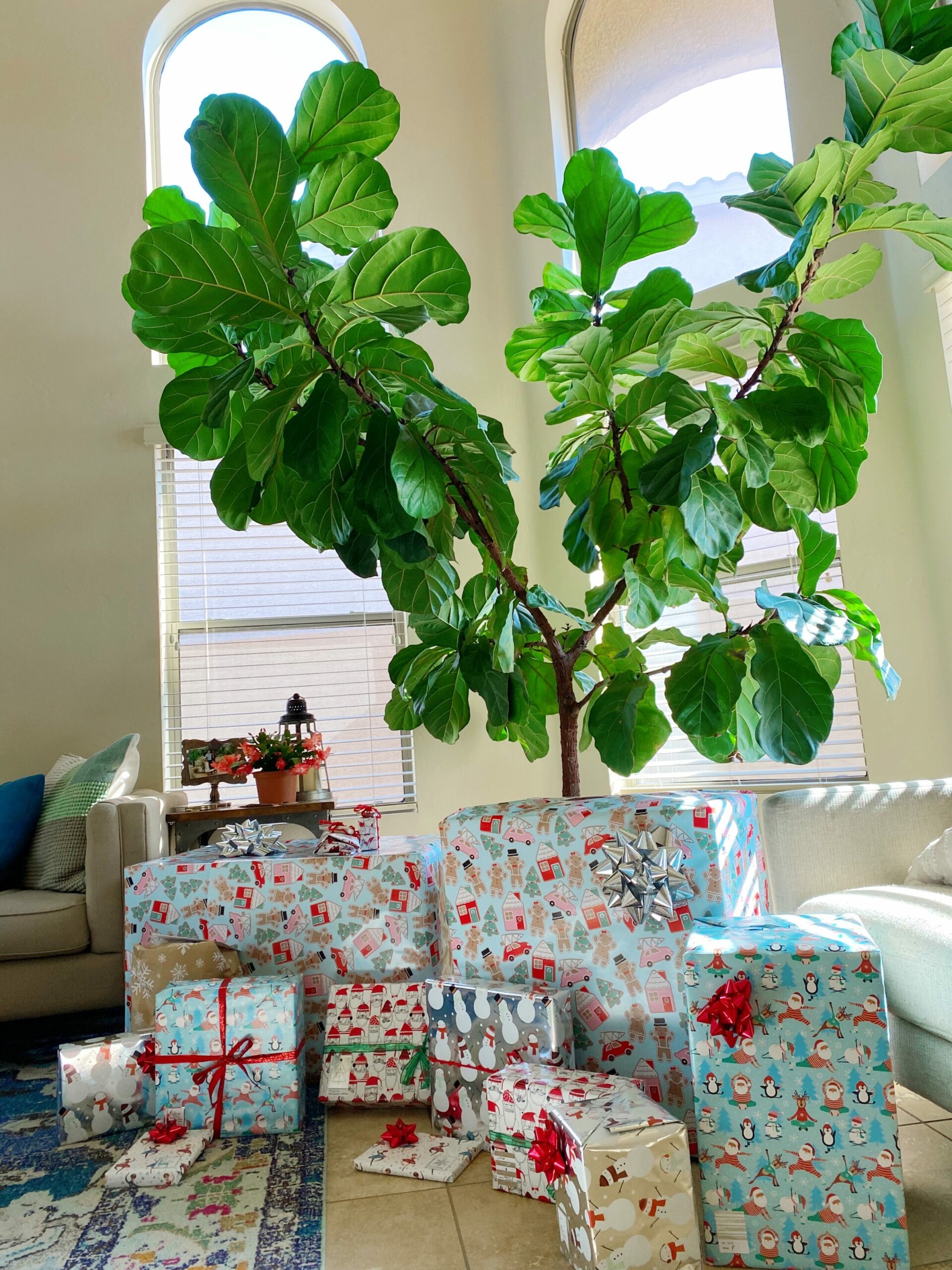 Here are the top gift guide picks from my analytics:
This turtleneck. I have it in the camel color and the quality is amazing
My current fave jeans are in the top each week – I'm so glad so many of you like them as much as I do! It's a perfect way to venture into non-skinny jeans without going too far
This vegan leather square neck mini dress
This two piece sweater set I wear all the time!
This kids' North Face hoodie. Both of the girls have these and they're super cozy and soft
Quite a few of my virtual BFFs out there will have matching Christmas dresses with our girls!
The dusty pink sweater I've been wearing lately
This men's down vest! I need to order one for the Pilot
Kids' hooded one-piece pajamas. Both of the girls have multiple ones from Tucker + Tate; they're so cute and excellent quality
This under the desk treadmill is 50% off! I might be ordering one for myself lol
The best hair mask in all the land
This lightweight puffer jacket
This pretty and flattering sweater dress!
Frozen wine slushie mix, further proving that ya'll are my people
Read, watch, listen:
I finished this book and LOVED it. While I'm pretty familiar with the top blood sugar hacks, the author really broke it down in a way that was accessible for life, and backed everything up with studies, as well as her own observations. It was an easy read and if you're looking to improve insulin sensitivity and optimize your body's blood sugar response, definitely check it out! (I only with she would have gone more into sleep and stress, but really enjoyed the book.)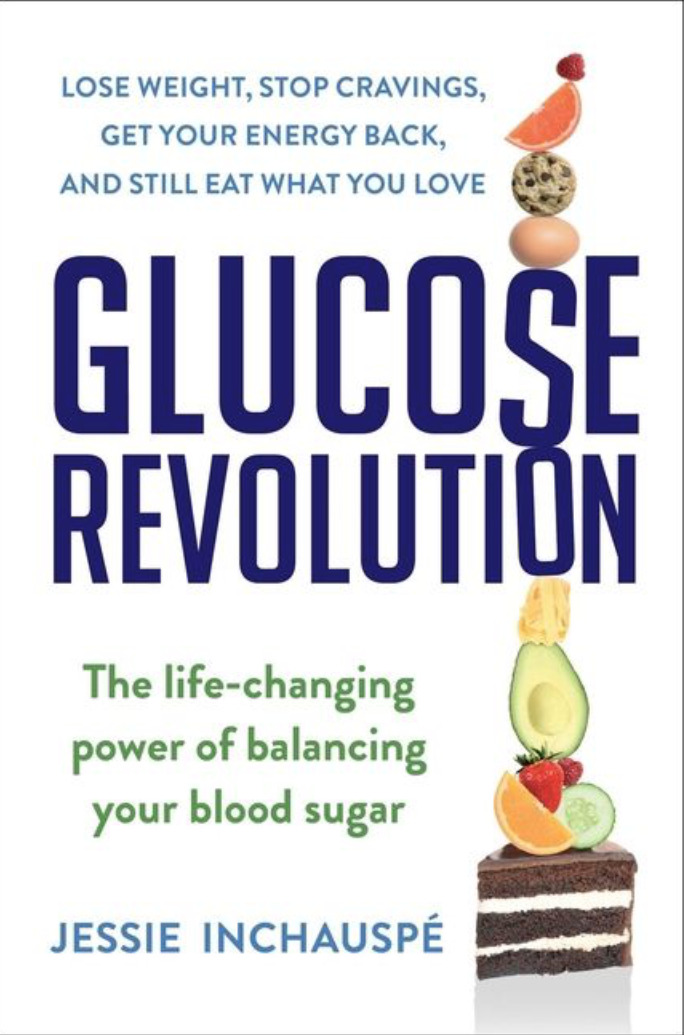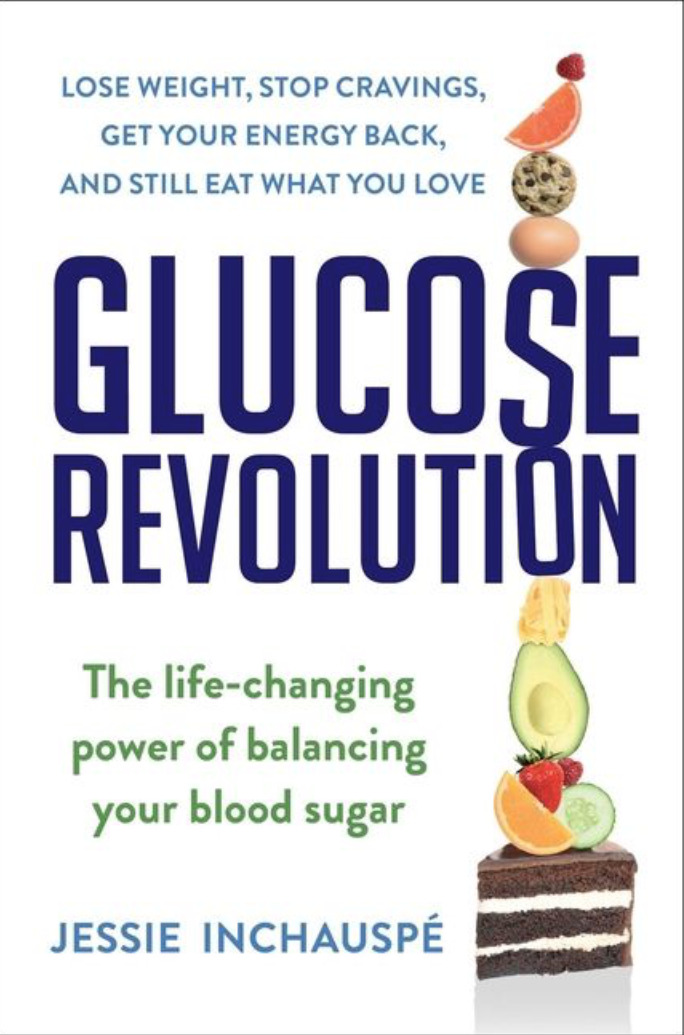 I'm also wearing a Nutrisense CGM right now and have implemented some of her strategies. If you'd like me to write a post with changes I've made or things I've emphasized more often, I can definitely do that.
White elephant gifts that people really want. (So many ideas in the comments section, too!)
Things to try from Trader Joe's.
Check out this week's podcast episode here. 
Happy Friday, friends!
xo
Gina
CreditSource link